Tungsten Carbide Drawing Dies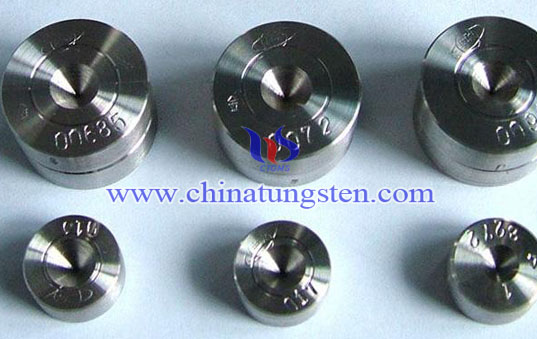 Chinatungsten Online is the professional manufacturer of tungsten carbide drawing dies with high quality and reasonable price. Tungsten carbide is a class of materials widely used in drawing dies because of their superior strength, toughness and wear resistance. All major wire producers can use drawing dies, which include wire drawing dies, tube drawing dies, bar drawing dies. Available in varied bore sizes, the range of tungsten carbide drawing dies that we bring forth is used in drawing wires, bars and tubes of different materials. The tungsten carbide drawing dies that we manufacture, export as well as supply are widely demanded in the global market. These are fabricated with tungsten carbide blanks and are used for drawing wires, bars and tubes. Also, these are available with bore sizes from 0. 2 MM to 120.000 MM along with varied case sizes.
The features possessed by the tungsten carbide drawing dies include high strength, robust construction, easy availability, durability, excellent performance and many others. We have established our strong footholds in the international market by satisfying the customers with a premium range of tungsten carbide drawing dies .Tungsten carbide drawing dies could long-time ensures the high surface roughness for high-speed drawn steel wire, tungsten wire and copper wire. Chinatungsten Online produces tungsten carbide drawing dies in both the standard configurations (round, square, hexagonal and rectangle) and in custom shapes as specified by our customers CAD drawings.
Tungsten carbide has very high compressive strength and hence can take high pressure. Tungsten carbide being brittle in nature and is not guaranteed against breakage. Hence, it should be handled with utmost care. Tungsten carbide drawing dies are typically used to draw wire, rod, bar, and tube. Commonly drawn materials include steel alloys, aluminum alloys, and copper alloys. We can supply the dies fully finished or rough cored - cased or uncased, to meet client's exact requirements.
Configurations of tungsten carbide drawing dies:
Round Drawing Dies

Hexagon Drawing Dies

Square Drawing Dies

Rectangle Drawing Dies

Custom Shapes
Tungsten carbide drawing dies of shaped molds, such as spiral, hexagonal, flate wire, copper bars, oval, semicircular, triangular, rectangular and other shaped molds. All molds are processed according to customers' drawings or actual samples. We can also design the mold to meet customers' demand and offer the drawing dies of any trade mark performance in time according to customer's demand. Because our company always adheres to technological development, we can make sure to choose the best material according to the service condition.  We ensure that our high quality and reasonable price can ,make the customer satisfied.